Can we schedule a workflow? If yes, how do we do it?
Yes, you can schedule a workflow to be executed at a particular date and time. To create a scheduled workflow, follow sample steps below :
In the Admin Tools page, create a Schedule Metadata field and associate it with a Metadata Group and Metadata Set.e.g.: Embargo Date>DIST Series>DHX




2. In the Super Admin interface, create a workflow with Event Type as Scheduler.E.g.: Image to be moved to XYZ category on 20th Feb 2019, 9:00 am.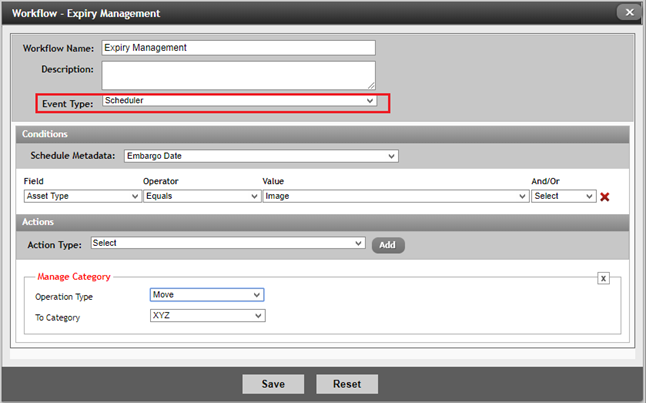 3. In eMAM Director Interface, under
Metadata
widget go to the
Metadata group
tab. In the Schedule Metadata field, select a date from the calendar and enter a time. Click on
Save Metadata
.
Automatically a workflow will be triggered on 9:00 am 20th Feb and this asset will be moved to XYZ category.
Similarly, multiple workflows can be created for scheduled triggers,
Related Articles

Can a workflow be scheduled for a particular date and time?

Yes, eMAM users can easily schedule their workflows to be executed at a particulate date and time. With this workflow scheduler feature, you can now schedule the execution date and time for a series of workflow actions for an asset using the schedule ...

How can we use "Button" metadata field type in a workflow?

A button metadata when clicked triggers an associated active workflow. This helps to execute any workflow on a click of a button. For e.g.: Here a button metadata Action is associated with Tool A workflow. In eMAM Director interface, under Admin ...

How to schedule archival of assets?

Refer to the attached document.

Hansard workflow and configurations.

Basic Hansard Making process. User is delivering the XML to the delivery folder location by using the workflow. By selecting the asset from Browse widget and change the Metadata filed from the Metadata widget which leads to trigger the workflow. Once ...

How to schedule eMAM DB backup using Task scheduler?

Download the patch from the below FTP location Host: ftp.emamcloud.com UserName : clients Pwd : Clients_123 Download Database_Auto_Backup_04AUG2021.zip from folder SCRIPTS Once the patch file is downloaded, follow the steps below : Extract the ...