In the Admin Tools page, reports feature can be used by admins to generate various reports from the eMAM system. Click on the Reports tab to expand it and see the list of reports available: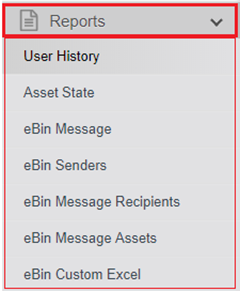 a. User History Report: User History Report displays history of all the actions performed by a particular user over a specified period of time in the eMAM System.


b. Asset State: 'Asset State Report' generates a list of assets states for the specified time range. Report is generated by selecting State from the drop down list, and date range from the calendar.


c. eBIN Message: eBIN Message Report allows eMAM Unit Administrator to view all the emails sent through eSEND within the specified time period. Report displays all the emails sent for a given time period.



d. eBIN Senders: eBIN Senders Report provides summary of all the eBIN mails of any particular sender sent through eSEND for a specific time period to the eMAM Unit Administrator. Reports can be generated for those senders only who have used eSEND option and have enabled tracking option for their eSEND mail.
e. eBIN Message Recipients: eBIN Message Recipients Report allows eMAM Unit Administrator to see all the eBIN mails received by a particular recipient in a given time period. User can generate reports on each email received by the recipient.


f. eBIN Message Assets: eBIN Message Assets Report allows eMAM Unit Administrator to get a summary of all the assets sent through eSEND for the specified time period.


g. eBIN Custom Excel: You can generate a custom eBIN excel report for the selected asset belonging to the specified project and category. To generate the custom eBIN excel report, select the asset, choose the project and category from the drop-down menu, select 'To' and 'From' date, and click 'Generate Excel'. The excel sheet is created and saved in the local system. The generated report has asset name, asset file name, eBIN Open count, asset play count, total number of downloads, total eBINs delivering asset and date and number of times 'eBIN Open Count' and 'Asset Play Count' actions were performed.